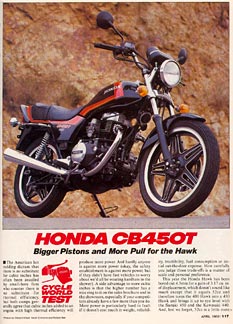 1982 Cycle World article - Click on the image above to view the entire article, or view each page here: 1 2 3 4 5 6 7 8
Text from the 1982 Honda Canada Color Brochure
If ever a motorcycle was in a class by itself, it's this one. The 1982 Hawk. Powerful proof that high performance can exist below 450 cc's.

Here's the next best thing to a pair of wings. A fast-flying pair of wheels. The 1982 CB450T Hawk. Honda's high-class, high-performance sports machine was born out of trials of strength and speed on the race track. And then refined to match the beat of the city street. It flies on the output of a new, larger 450 engine with "Pentroof" heads and a unique three-valve design for peak combustion efficiency. Dual counter-rotating balancers reduce vibration level. And a "Tri-pulser" capacitor discharge ignition makes maintenance visits few and far between. Every breath it takes through its twin constant-velocity carburetors is done efficiently and effortlessly. And Honda's "Power Chamber" exhaust gives the Hawk truly formidable mid-range power. The six-speed, close-ratio gearbox gets the power to the ground smoothly. Overall gear ratio has been changed to lower engine speed on the highway for relaxed cruising and better fuel economy. The Hawk soars on air-assisted telescopic front forks. And a plush rear swing-arm suspension yields crisp handling. As well, there's a twin piston caliper front disc brake to help bring you to a halt in a hurry. It's got good looks that are bound to ruffle the feathers of our competitors, too. There are Honda's showy reversed-spoke "Comstar" wheels. And a fuel tank that's shaped to incorporate knee cut-outs. There's a spoiler-shaped section at the rear that holds the tail light. And the Hawk's plumage is pretty flashy, too. It flies in racing style colors of black or silver metallic. See Honda's new 1982 CB450T Hawk. Then take one for a test flight. And let your spirits soar.
Features
Crankcase-mounted oil cooler helps the engine run cool.
Instrumentation with special night-time lighting for easy reading.
Big bore Honda engine with three valve head for better breathing and chain driven counterbalancer to reduce vibration.
New "Power Chamber" design for increased mid-range power.
VDR rear shock absorbers with 5 spring preload adjustments.
Electric start offers super easy starts.
Dual piston front disc brake.
Twin CV carburetors and accelerator pump improve response.
Reversed-spoke "Comstar" wheels with tubeless tires.
Integrated seat, fender, tail light and spoiler-shaped tailpiece.
Changed overall gear ratio for lower noise, better fuel economy.
Accessories
Engine Guard
Continental Handlebar Kit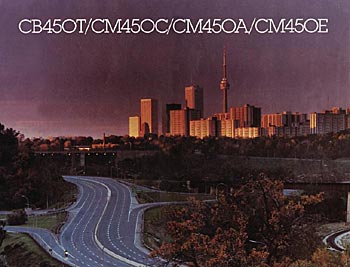 The cover of the Canadian 1982 Honda 450 brochure
Hawks and their Relatives
| | | | |
| --- | --- | --- | --- |
| | 1978-79 | CB400T | Hawk I & II |
| | 1980-81 | CB400T | Hawk |
| | 1982 | CB450T | Hawk |
| | 1988-91 | NT/GT650 | Hawk |
| | 1982 | CB450SC | Nighthawk |
| | 1982 | CB650SC | Nighthawk |
| | 1982-83 | CB750SC | Nighthawk |
| | 1983 | CB550SC | Nighthawk |
| | 1983-85 | CB650SC | Nighthawk |
| | 1983-86 | CB450C | Nighthawk |
| | 1984-86 | CB700SC | Nighthawk |
| | 1991-97 | CB250 | Nighthawk |
| | 1991-95 | CB750SC | Nighthawk |
| | 1961-67 | CB77 | Superhawk |
| | 1997-2000 | VTR1000F | Superhawk |

Here's a Hawk relative! The 1982 CB900F looks like the Hawk!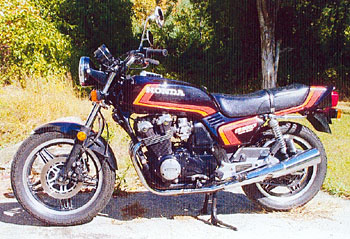 The new Honda CB400 super four looks like the Hawk too!
It may only be available in Japan.