Matt Albinson from San Francisco, California rides a CB450T that was painted gray. He has seen other CB450T Hawks in San Francisco.
Joel Roltgen from Baraboo, Wisconsin, U.S.A. owns a CB450T Hawk in great condition.
Lucie Godin from Montreal, Quebec also rides a silver and blue CB450T Hawk. She started with a Honda scooter, then got the Hawk and learned to ride from her sister, who rides a 1972 Honda 750.
Marty Alexander's first bike was a CB450T like mine, without the fairing. He bought it from a guy who returned from the military in Hawaii, with a Hawaii inspection sticker still on it! He regrets having sold it! Marty lives in NE Pennsylvania, and he now rides a 1997 Kawasaki Concours.
Tai Day's first bike was a CB450T Hawk. If you're a shorter biker, note that Tai is 5'4" so the Hawk is a possible choice.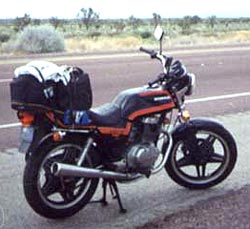 This is Clancy Fiendell's Hawk in the Mohavi Desert. It was originally a 1982 CB400T. He bought a 1982 CB450T from a junkyard for $200, took the engine and carb and upgraded the 400 to a 450. The engine is the same except the cylinder walls and pins in the carb. The bike had about 110,000 miles on it when he traded it for a '86 Ninja 600. Now Clancy is in North Vancouver, and his bike is in Guatamala!